TL;DR

Do you ever wonder why you have certain characteristics or why you have an affinity for a certain way of life? Or do you sometimes wonder why you have a better connection with certain people over others? The Four Elements has a big impact on who we are and all of us belong to one of the four. So, knowing this, we can better understand who we want in our lives, what personality traits of ours need balancing and how we interact with the world around us.
The Four Elements
Greek Philosopher, Empedocles, posed the most notable concept of The Four Elements that we know today. That said, the concept that the universe is composed of different competing forces has existed throughout various different ancient civilizations. As such, the names of the Four Elements have varied over time with some cultural interpretations referencing additional elements such as Wood and Metal. Regardless, the key message underpinning all interpretations is that of balance; physical balance of the earth, balance in our astrological charts and even balance in the human body itself. For instance, in Ancient Greece, it was believed that the Four Elements directly corresponded to the 'Four Humors' of the body, and when these humors were misaligned, we would encounter all kinds of physical issues. Alongside this, it is considered that the Four Elements form the makeup of the entire Universe, setting the foundation of life and allowing for our existence on Earth. For Buddhists, the 'Four Noble Truths' has similar connotations and for Native Americans, the 'Four Directions' also presents the same messages of balance, physicality and structure. In fact, virtually all traditional religions and spiritual communities have an elemental belief system that they believe underpins the world and everything in it. So, by looking at the Four Elements, we can feel closer to the wisdom of our ancestors and better understand the interplay of the universe's forces around us. We can use their teachings to connect deeper with ourselves, our relationships and grasp how the physical world operates. With that said, the Four Elements in astrology consist of Fire, Earth, Air and Water. Each of these elements rules over three zodiac signs and imparts their individual traits and characteristics onto them.
What is the Element of Water?
Water is the emotional, sensitive and spiritual component of the Four Elements. Those ruled by Water are empathetic, mysterious and have many layers to be uncovered. Unlike transparent Fire, or communicative Air, Water is dark and murky, showing ripples and waves but a whole world of unknown under the surface. Similarly, just like the ever-changing tides of the ocean, Water people experience vast fluctuations in mood and are influenced strongly by the environment around them. Not only this, but these special people also have a close connection with the moon, with their well being associated with the various lunar phases. It is unsurprising, therefore, that Water is the most spiritual of all elements and those it rules over are most likely to enter a career of an occultist or holistic nature. In short, Water is an element that is highly sensitive to external influences, meaning Water people can struggle with regulating their emotions or staying grounded during difficult times. That said, Water is the element of empathy, and because Water people feel emotions so intensely themselves, they understand exactly what others may be experiencing also. They make fantastic friends to turn to when going through turmoil and have plenty of advice to offer. Knowing when to 'switch off' can be a big challenge for this element though, as they are known to torture themselves by overthinking or catastrophizing situations.
What are the Water Signs of the Zodiac?
Ruled by the element of Water are Cancer, Scorpio and Pisces. All of these signs are beautifully unique but share many of the qualities exuded by Water.
Cancer
The cardinal Water sign of Cancer is the zodiac's most emotional and sensitive sign. These individuals are also incredibly intuitive, picking up on the subtle variations of people's moods around them. Some like to consider Cancer like a sponge in this sense as they are prone to picking up and embodying the energy of the people they are with. Naturally, therefore, the problems faced by Cancer's loved ones are very burdensome for the sign as they join their friends and family on their emotional rollercoaster. So, in some ways, Cancers are wonderful at providing empathy when times get tough but they can also heighten the emotions already at play. Knowing this, it will come as little surprise that Cancers need to learn to think with their heads a little more to prevent their hearts getting the better of them. Having rich, intense and varied emotions is a beautiful thing but it can cloud rationality and make for many sleepless, worrisome nights.
Scorpio
While similarly emotional to Cancer, the fixed sign of Scorpio is far more illusive with this facet of their character. They feel all of the same intense emotions as the other water signs, but rarely let these rise to the surface. This means they are very difficult to read and their emotional walls are hard to pull down, but once in, their loyalty is unmatched. In fact, with those they love, Scorpios are known to be incredibly intense with their affection while maintaining a fierce dedication for their closest friends and family. With that said, however, they have an equally fierce response to mistreatment. Often known as the sign of revenge, Scorpios are no stranger to seeking vengeance when they feel hurt or wronged.
Pisces
Sharing the same intense emotionality as Scorpio and Cancer, the mutable Water sign of Pisces is the softest of the trio. Sensitive is Pisces' middle name as these people are famous for their kind heart and caring touch. These individuals simply cannot stop feeling and sympathizing which, at times, can become a bit of an emotional burden. Not only this, but Pisceans are also highly sensitive to how others treat them. Their feelings are easily hurt by misspoken words and they are known to take things very personally. This is not to say that Pisces have a big ego though, in fact, it is quite the opposite; Pisces will put everything on the line to help others and dread the idea of causing another person upset. Knowing this, the intense sensitivity of Pisces is likely a result of the sign's inherent spirituality. In fact, Pisces is known as the zodiac's most spiritual sign.
Water Signs Compatibility
All Four Elements work as a team, creating balance and harmony in both the universe and ourselves. That said, some elements are more compatible than others, while similarly, other elements have greater levels of discord between one another. For instance, Water and Fire are united by their intense emotionality, but do not balance well as a result. Instead, Water and Air make a far more harmonious team as Air encourages Water to think and verbalize when emotions are running high. We can also look at the relationships between elements when assessing our natal charts, as looking at how the elements are distributed can paint an interesting picture of who we are as a whole. However, most of us are interested in how compatible we are with those from different elemental groups, which is outlined down below.
Water and Earth Signs Compatibility
Earth and Water may not be the perfect balance, they can complement each other relatively well. For one, Water helps Earth to bring their emotions to the surface and Earth grounds Water when tensions are running high. However, their biggest difference lies in their outlook of the world; Earth is solid, rational and even overly-concerned with material goods at times. On the other hand, Water's mind is always on the 'bigger' things, pondering what lies beyond, why we are here and what our purpose may be. This isn't to say these two can't appreciate each other's mindset, but it is to say that a deeper connection may be harder to come by.
Water and Earth Love Compatibility
When it comes to love, Earth and Water can go one of two ways. In one way, the pair can learn to appreciate the lens through which they both view the world. But in another way, they can grow disconnected and communication can break down as they speak vastly different love languages. For instance, Earth is a doer, taking delight in providing acts of service for their partner whereas Water feels love through the expression of emotion and physical touch. For this couple to overcome these issues, they both need to take a lesson from the Air element and put their communication skills into practice. If they can both express where they are coming from and how they wish to receive affection, there is far more chance of success for this couple in the long run.
Water and Air Signs Compatibility
Water and Air make a solid team. Looking at their physical composition, these two elements share the greatest similarity and are closely interlinked. This translates more broadly too, as Water's innate spirituality compliments Air's deep thinking and open mindedness nicely. As friends, you can expect endless profound and existential conversations to be had with some seriously interesting points being made.
Water and Air Love Compatibility
Although there is much balance and harmony between Air and Water in a platonic sense, when it comes to love, the picture is not quite so clear. This is particularly true regarding the two elements' world view. On the one hand, Air views the world through a logical, analytical lens and comes to conclusions through a process of reason. On the other hand, Water places its faith in the unknown, in feelings and in the fate of the Universe. While these differences can lead to a healthy and harmonious relationship, more often than not, these two can grow stagnant as they struggle to see a long-term future together. That being said, there are some wonderful lessons to be learned in a Water-Air coupling; Air is able to teach Water how to communicate their emotions rather than letting a storm brew beneath the surface. In turn, Water can bring out the softer, more sensitive side of Air and show the element how to use their emotional intelligence in a way that best comforts others.
Water and Fire Signs Compatibility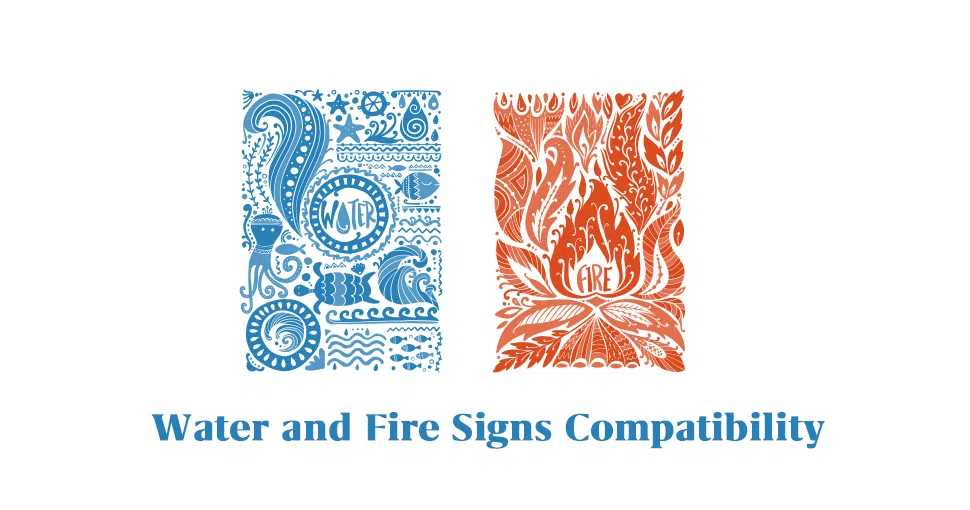 The Fire and Water elements are an incredibly dynamic duo. They are similar in their emotionality, feeling with the heart rather than thinking with the head. They have strong, visceral reactions to situations and feel emotions far more vividly than Earth and Air. However, these two both struggle to regulate their intense emotions leading to explosive clashes and extreme outbursts. Fire is also likely to speak without thinking leaving sensitive Water bruised, and Water's endless empathy towards others can leave Fire feeling frustrated and impatient. So, when it comes to friendship, Fire and Water's traits can be a little too close for comfort at times.
Water and Fire Love Compatibility
Fire and Water can swing either way when it comes to romantic compatibility, but when it goes right, it goes so right. As they are both expressive and emotional entities, a relationship between Fire and Air is passionate, loving and thrilling - the kind of love you hear about in a fairytale. These two throw caution to the wind and seek to connect with each other on a deeper, spiritual level. However, a flame that blazes so brightly risks burning out - it's not unlikely for this couple to face an emotional boiling point as Fire speaks without thinking and Water passively waits for Fire to figure out what is wrong.
How to Balance Water Element?
Knowing which of the Four Elements have the greatest influence in our natal chart can inform us of what needs balancing. If your chart is dominated by one sign, looking at the attributes of the other elements can guide us in a more harmonious, balanced direction. For instance, those ruled by Water may benefit from learning Earth's grounding techniques or by taking inspiration to be more assertive like forthright Fire. That being said, we can restore our energy by engaging with our element in its physical form; Water people may feel revitalized when swimming in the ocean or taking a walk in the pouring rain. Do what feels right, but make sure to call on all Four of the Elements when feeling off center or out of whack. Remember, Water nourishes the Earth, while Fire cannot burn without Air. Air influences the movement of Water, while the stability of Earth can be decimated by Fire. Whatever way you wish to envisage it, the symbolism behind how the Four Elements interact is significant and helps us understand what makes us the way we are.
Do you still want to know more about the Water element in astrology? There are many resources at Mysticsense that can guide you with your learning and provide insight for any other questions you may have. Get started learning more about the Four elements at Mysticsense today!
We have selected the most relevant psychics for this article, you can connect with any of them and get accurate advice on this subject.